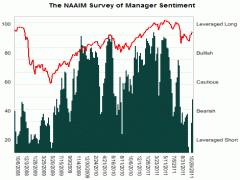 Bullish Sentiment Reaches Highest Level Since April
---
(RobertSinn) "Notice that bullish sentiment in the AAII survey tends to serve as a leading indicator, however, it should be noted that the last time ...

October 30th, 2011 |

Comment First!
The Perfect Storm: Lessons Learned from the DOW's 1000 Point Flash Crash
---
Was the May 6th, 2010 intraday crash and recovery just another one of those once-in-a-lifetime rare anomalies -– a rare confluence of events coming together ...

May 19th, 2010 |

1 Comment
OBAMA WINS 2008 ELECTION AND DOES HOT PIZZA!!!
---
Barack Obama does hot pizza, and we say keep the change!

October 30th, 2008 |

106 Comments