How to choose the best political candidate
---
For those who still can't comprehend the meaning of ONE TRILLION DOLLARS OF DEBT (let alone $4 TRILLION in a single year), this excellent video ...

August 13th, 2012 |

Comment First!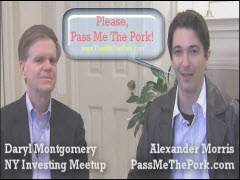 ANY PORK IN THIS STOCK MARKET FOR ME?
---
Video interview and update on the current State of the Markets, as well as the overall State of the Economy with Daryl Montgomery of the ...

April 22nd, 2009 |

43 Comments