MAKE SOME PORK FROM THE SWINE FLU OUTBREAK!
---
Another year, and another pandemic-potential flu virus outbreak. This year's hoopla is over the swine influenza (H1N1) virus (swine flu) outbreaks in pigs which ...

April 26th, 2009 |

3 Comments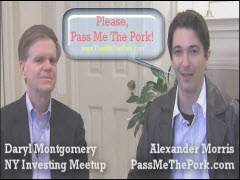 ANY PORK IN THIS STOCK MARKET FOR ME?
---
Video interview and update on the current State of the Markets, as well as the overall State of the Economy with Daryl Montgomery of the ...

April 22nd, 2009 |

43 Comments