Remembering Those Who Died for Our Independence
---
It's always wise to remember the price people paid to provide us with so many of the freedoms that we take completely for granted today. ...

July 4th, 2009 |

2 Comments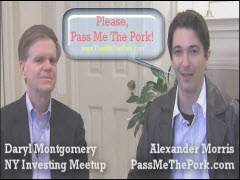 ANY PORK IN THIS STOCK MARKET FOR ME?
---
Video interview and update on the current State of the Markets, as well as the overall State of the Economy with Daryl Montgomery of the ...

April 22nd, 2009 |

43 Comments