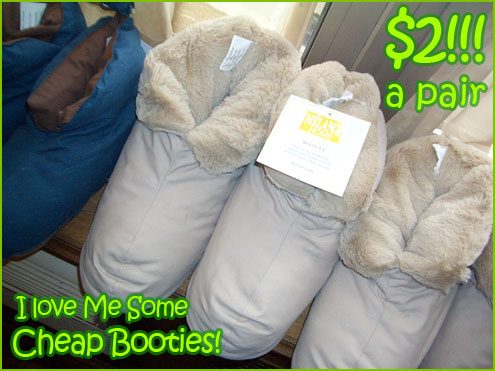 Being a frugalista, this two buck steal-of-a-deal was simply BOOTiful!
Don't you just love that warm and fuzzy feeling you get all over when you bag an amazing deal?  Okay, maybe you don't but I sure DO! Ordinarily, I wouldn't bother blogging about my boring buys but I found a real steal in a brick-and-mortar store in New York City (cheaper than a slice of freakin' pizza) and had to pass on my savings!
I'm all "warm and fuzzy" over these booties that I bought at Laytner's Linen & Home Store on Broadway for just TWO BUCKS a pair.  That's the price of one swipe on your MetroCard and helluva lot cheaper than the "recession special" at Gray's Papaya.  I have to say, these voluminous, fleece-lined, microfiber booties are only fashionable for the Stay Puft Marshmallow Man (as in GhostBusters fame) but keeping my tootsies cozy during the cold winter months (which seems like most of the year here in the Northeast) is a must.
It really does pay to be patient on purchases (however big or small) and late spring is a terrific time to find steals on items for next fall and winter.  My booties originally retailed for $24.99 and I bought three pairs at $2/each for a total savings of $68.97.  To top it off I snatched up an organic, cotton-sateen, 300 thread count Queen-sized sheet set for just $29.99 (originally marked $59).
Frugalistas and bargain hunters, what's your latest score?  Please share in the comments section below!