How US Job Losses and Offshoring Will Start to Decline
---
(SeekingAlpha-MHFT) "Textile workers earn $2.99 an hour in India ($PIN), $1.84 in China ($FXI), and $0.49 in Vietnam ($VNM)." "This compares to the $8 an hour ...

November 2nd, 2011 |

Comment First!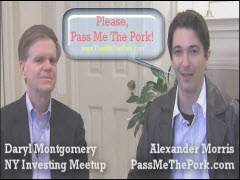 ANY PORK IN THIS STOCK MARKET FOR ME?
---
Video interview and update on the current State of the Markets, as well as the overall State of the Economy with Daryl Montgomery of the ...

April 22nd, 2009 |

43 Comments