Goldman Advises the Fed to go Nuclear, and set a Target for Nominal GDP
---
Best summed up by this comment by black swan on the BusinessInsider post: "@Tom Hunter: 'indicating that they will use additional asset purchases to help bring ...

October 26th, 2011 |

Comment First!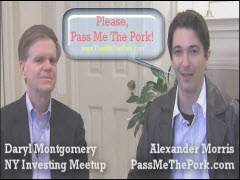 ANY PORK IN THIS STOCK MARKET FOR ME?
---
Video interview and update on the current State of the Markets, as well as the overall State of the Economy with Daryl Montgomery of the ...

April 22nd, 2009 |

43 Comments