Identifying Questionable Downgrades on Stocks
---
(TheReformedBroker) "When stalking a growth stock awaiting better entries or looking for new growth stock ideas, one of the best things you can do is ...

February 28th, 2012 |

Comment First!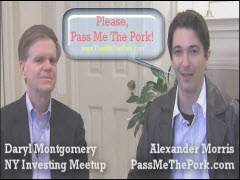 ANY PORK IN THIS STOCK MARKET FOR ME?
---
Video interview and update on the current State of the Markets, as well as the overall State of the Economy with Daryl Montgomery of the ...

April 22nd, 2009 |

43 Comments