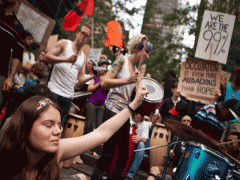 Has Occupy Wall Street become exactly what its members were fighting against?
---
Isn't it amazing how, no matter at what level, it always seems to boil down to a small group of "elites" trying to control all ...

October 24th, 2011 |

Comment First!

China's SEX THEME PARK is a BUST!
---
If you were hoping to take a fun ride on the "tunnel of love" during your next quickie visit to Chongqing, China you're plum out ...

May 19th, 2009 |

3 Comments