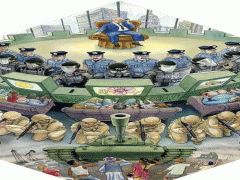 Militarization of American Police – Citizens are considered little more than scurrying cockroaches and savage animals
---
Perhaps the most frightening part of this 2006 video is that not one of these police officers objected to shooting rubber bullets at an unarmed ...

December 8th, 2011 |

Comment First!
How US Job Losses and Offshoring Will Start to Decline
---
(SeekingAlpha-MHFT) "Textile workers earn $2.99 an hour in India ($PIN), $1.84 in China ($FXI), and $0.49 in Vietnam ($VNM)." "This compares to the $8 an hour ...

November 2nd, 2011 |

Comment First!