Great Historical Overview of Currency Failures and Hyperinflation
---
Great video presented by Timothy Terrell at the Mises Circle at Furman University: "The Coming Currency Crisis and the Downfall of the Dollar".  For those ...

March 19th, 2011 |

1 Comment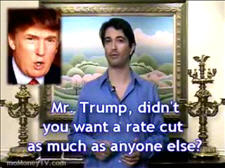 The Culprit Behind the Housing Bubble – abridged version
---
"In the absence of the gold standard, there is no way to protect savings from confiscation through inflation. There is no safe store of value. ...

October 6th, 2007 |

1 Comment