Welcome back to another Celebrity Filled Hotroastin' mo Money episode of "Trading with the Stars"! Some of you may recall a few weeks back when Vienna Marriott gave us a few of her picks for CNBC's "Million Dollar Challenge". However, we had no idea how well they would actually perform. Today she shares with us some of her secrets, introduces us to Alexander's new ebook, "How to Win the Million Dollar Challenge", and shares with us a few new interesting stock picks to check out! Stock mentions: NASD:CHAP, NASD:NBIX, NASD:SBGI, NYSE:CHD, NASD:ONXX


---
Welcome back to another Celebrity Filled Hotroastin' mo Money episode of "Trading with the Stars"! Some of you may recall a few weeks back when Vienna Marriott gave us a few of her picks for CNBC's "Million Dollar Challenge"! However, we had no idea how well they would actually perform!
Since March 26th, NASD:CHAP has been up over 13% and NASD:NBIX, has been up as much as 20% since that same episode was released. So how did she do it? What are her stock picking secrets?
We're here today to find out…
Alexander: Hi Vienna – great to see you again! How's it going?
Alexander: You did so well with your last picks we just had to find out more about how you pick your stocks! Please, share with us some of your secrets!
Vienna: Well, actually Alexander, I have you to thank for! I just followed some of the strategies that you described to me from your new book and totally ran with it!
Alexander: Really?! Wow – that's great – I had no idea!
Vienna: SHUT UP – I'm sure you don't! Really, you're such a tease. I finally got to read your new book "How to Win the Million Dollar Challenge" and I can't wait to try all the strategies you've cooked up to help people make mo MONEY!
Vienna: Instead of shopping at Barney's, Bendel's, Jeffrey's, Bergdorff's, Fred Segal's, Gucci, Louis Vuitton, Marc Jacobs, Prada or Dolce and Gabanna I think I'll be stock shopping instead. Besides, I have an assistant for that kind of stuff.
Alexander: Aw, well thanks Vienna you're too kind – I feel so appreciated for my effort!
Alexander: So, Vienna, perhaps you can share for us a little bit about the strategies you used to pick NASD:CHAP and NASD:NBIX.
Vienna: Not a prob Alexander! You know I love to share!
Vienna: First of all, I remembered how you were saying the basic materials sector was so strong – and especially the steel and iron industry group's have been like, really hot lately.
Vienna: Chaparral Steel has a pretty low float with only 40M shares, and about 7% of the float was still short at the time. From what you said, that would make a great catalyst for a short squeeze as NASD:CHAP started making new all-time highs day after day. It was also making float-range breakouts from those highs as well, meaning that a good part of the stock's tradable float was probably tied up with the "smart money". The stock also pays a small dividend, and even after its big move still only trades at a price/earnings ratio of a bit over 12. It's also a small SAC Capital Holding (the totally hot hedge fund run by Steve Cohen). No matter what happens with the market, the stock just keeps going higher. Amazingly I still haven't really seen the stock "blow off" on heavy volume, which is what you had told me tends to happen at the end of a big move in a stock. I started scaling out of my position though because I really can't imagine how much higher it can go!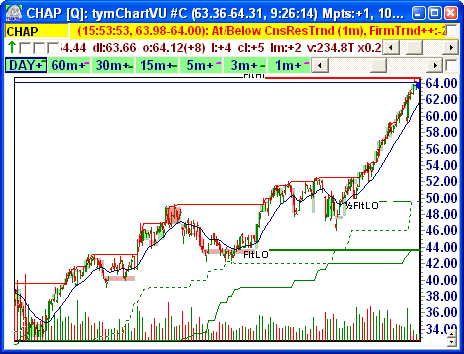 Alexander: That's great Vienna – thanks for that analysis. Wow, I didn't realize you were actually listening to little 'ole me when I was telling you all that stuff, but I've gotta say I'm really impressed at how much you picked up!
Vienna: Alexander, don't let this façade fool you. I'm one clever cookie.
Alexander: So tell us more about NASD:NBIX – Neurocrine Biosciences.
Vienna: With pleasure – NBIX recently had a big move after presenting at a conference, and the next day it fell back 50% of that move which is where I was looking to buy it based on the dual-thrust concept you showed me. Besides the fact that I already know of NBIX because its sleeping pill is supposed to be one of the absolutely best around, it was also heavily shorted. And from looking back on the chart as to how these moves materialized in the past, it seemed logical that the traders caught short NBIX would pile in even more, hoping NBIX would go right back down to where it started. Of course, they were all disappointed as NBIX squeezed them all the way to nearly 14.50 from a low of $12/share. That's a perfect symmetrical move to the first wave that exploded higher. I'm flat on this now – I mean on the trade! hehehe
Alexander: Thank you again Vienna for that great explanation. And finally, do you have any more picks for us to check out?
Vienna: Actually Alexander I do! I love using your "Chart Montage" idea to find stocks moving steadily higher, and I came up with some real hot and sexy picks! I gotta bring up one that I absolutely adored when I first spotted it a few days ago because of its 7% short interest and steadily accelerating uptrend, which is Sinclair Broadcast Group (NASD:SBGI). But now it's starting to break away sharply from it's trendline, so while it may be worth sticking with until it blows off on heavy volume, from what I've learned in your book I'd be wary of initiating a new position in the stock. I also like Church & Dwight (NYSE:CHD), which has also been trading steadily higher. The short interest isn't as high at around 3% or so, but it has been steadily rising even though some insiders seem to have been taking the opportunity to sell a few of their shares. You would think that would make the stock go lower but the stock doesn't seem to care, and it's probably keeping a few people short or at least on the sidelines. So long as it keeps edging higher it's staying in my portfolio!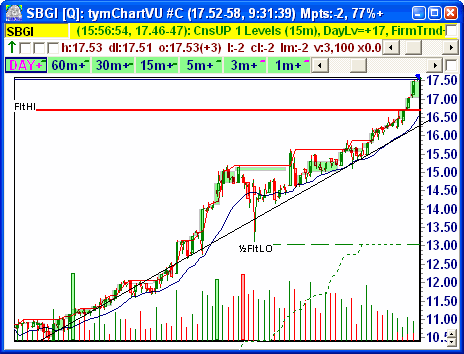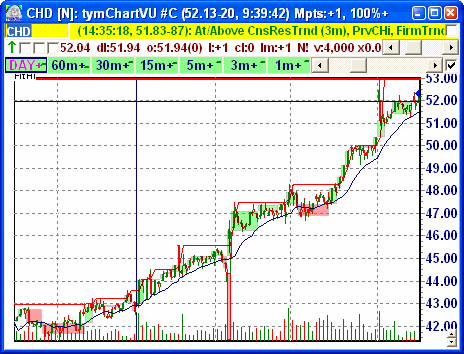 Alexander: Do you have any other picks for us today Vienna, you lil Hot To Trot Celeb Investor you?!
Vienna: I also like ONYX Pharmaceuticals (NASD:ONXX), (love the drug companies) which received FDA approval for its new drug Nexavar back in February, a kidney cancer drug developed in conjunction with Bayer for treating advance forms of the disease. It's the first drug in 12 years to be approved for kidney cancer. The stock shot up over $17 points on the news, and has since been tightly consolidating near its highs for the past several months since. A few days back it made a float range breakout, and has since been finding support around the midpoint of that move. I think the stock has the potential to make another big move up, especially if it comes anywhere close to making a second move symmetrical to the first. Also like, about 16% of the stock's float is current sold short. The company's also got a good deal of cash on hand, and little debt. I'm long, real long in NASD:ONXX!
Vienna: I've gotta say that I absolutely recommend your new book "How to Win the Million Dollar Challenge" for anyone who wants to participate in either CNBC's competition, or TheStreet.com's "Beat The Street" challenge. And I just love that I'm also learning how to apply all of this knowledge to make more money for real instead of always spending it!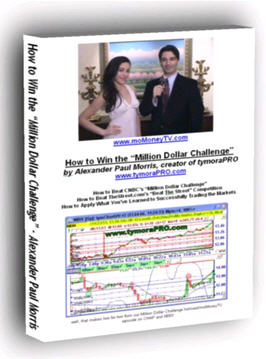 Alexander: Wow, well thanks again Vienna for the great insights, interesting stock picks, and of course for your wonderful endorsement of my new book!
Vienna: Hey no problem Alexander, you've helped me so I just love giving back to the little people! And it's so fabulous that you're also helping others too!
Alexander: Oh, thanks Vienna – that' so kind of you! Vienna, as a final note, why don't you give our viewers your favorite position. Lo—
Vienna: Oh, that's easy…always on top!
No Comments »

RSS feed for comments on this post. TrackBack URL
---
Please Log in and Leave a Reply!
You must be logged in to post a comment.