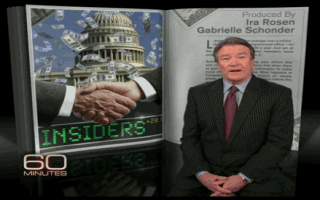 Congressional Insider Trading Scam – our Rule of Law doesn't apply to the 1% who run the Government and the Country
---
CBS News' Steve Kroft reports that members of Congress can legally trade stock based on non-public information from Capitol Hill.  We've already discussed this type ...

November 15th, 2011 |

Comment First!

Only Goldman Sachs can get away with Illegal Insider Trading
---
It's kind of ironic how Martha Stewart became the poster child for cracking down on insider trading activity, even though it was never even proven ...

August 20th, 2009 |

3 Comments
How to Win the Million Dollar Challenge :: Trading with the Stars
---
Welcome back to another Celebrity Filled Hotroastin' mo Money episode of "Trading with the Stars"! Some of you may recall a few weeks back ...

April 17th, 2007 |

Comment First!