Join Ron Paul's Drive to Audit the Fed and Shut it Down with HR 1207
---
With many Americans slowly waking up to the reality that our government and banking system are entirely under the control of a criminal elite of ...

May 25th, 2009 |

3 Comments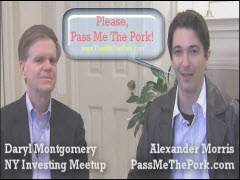 ANY PORK IN THIS STOCK MARKET FOR ME?
---
Video interview and update on the current State of the Markets, as well as the overall State of the Economy with Daryl Montgomery of the ...

April 22nd, 2009 |

43 Comments
From Tax Day Tea Parties and Tax Freedom Day, it's time to Pass Me The Pork!
---
What better way to introduce vlogolution's new PassMeThePork channel than on TAX DAY!  It's that fun-filled day of the year when Americans aren't sure if ...

April 15th, 2009 |

1 Comment