DEBT REVOLT BEGINS NOW!
---
This recently posted video to YouTube by Ann a.k.a. Rockerchic4God describes the public credit crisis dilemma so well I had to post it here. ...

September 11th, 2009 |

2 Comments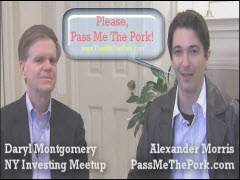 ANY PORK IN THIS STOCK MARKET FOR ME?
---
Video interview and update on the current State of the Markets, as well as the overall State of the Economy with Daryl Montgomery of the ...

April 22nd, 2009 |

43 Comments