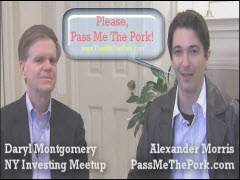 ANY PORK IN THIS STOCK MARKET FOR ME?
---
Video interview and update on the current State of the Markets, as well as the overall State of the Economy with Daryl Montgomery of the ...

April 22nd, 2009 |

43 Comments
America's Perfect Little Goldilocks Economy – or is it? A deeper look into government statistics
---
An interesting interview with Daryl Montgomery of the New York Investing Meetup (http://investing.meetup.com/21), discussing the realities behind our perfect little Goldilocks Economy as repeatedly portrayed ...

November 5th, 2007 |

Comment First!