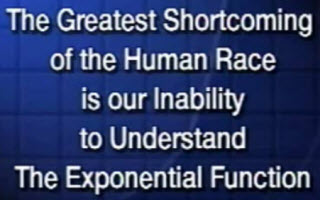 Most IMPORTANT Video You'll Ever See – The Exponential Growth Function
---
"Arithmetic, Population and Energy" may very well be one of the most important videos you're likely to watch.  While the math behind the exponential function ...

May 14th, 2011 |

1 Comment

Joe Biden Thinks Swine Flu WILL KILL YOU! But Only In Confined Public Places…
---
Vice President Joe Biden went on the Today Show with Matt Lauer this Thursday morning convinced that the Swine Flu is surely going to KILL ...

April 30th, 2009 |

6 Comments

Swine Flu Hysteria May Make for Cheap Mexican Vacations!
---
As I was standing in a ridiculously long, "fast" check-out line at the grocery store yesterday evening, an impatient gentleman shouted out to everyone waiting, ...

April 28th, 2009 |

4 Comments