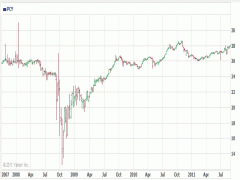 Are there any Safe Haven Plays in times of Crash or Crisis?
---
(TheHippo) "The reality of the matter and one that I have believed in is that during crisis there is NO SAFE HAVEN! It is a ...

November 3rd, 2011 |

Comment First!
Stop blaming the removal of the downtick rule each time the stock market tanks
---
Each time the market takes a dive, the "pundits" seem to come out in hordes to blame the extreme fall on the downtick rule (also ...

October 23rd, 2007 |

Comment First!