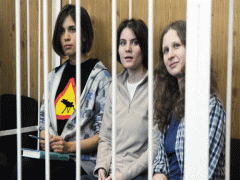 Russia's Pussy Riot shows Czar Putin will go after anyone
---
(TheGuardian) "The feminist collective hit the headlines when three members were arrested after an anti-Putin protest. Now they face up to seven years in jail, ...

August 5th, 2012 |

Comment First!
Great Historical Overview of Currency Failures and Hyperinflation
---
Great video presented by Timothy Terrell at the Mises Circle at Furman University: "The Coming Currency Crisis and the Downfall of the Dollar".  For those ...

March 19th, 2011 |

1 Comment