Barack Obama does hot pizza, and we say keep the change!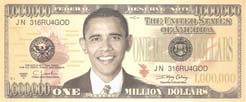 ---
Since Obama took office and went on to pursue his "spread the wealth around" policies, the country is on the brink of complete financial collapse as inflation has once again skyrocketed, along with taxes and a national debt that can no longer be serviced.
However, the underprivileged seem more destitute than ever, still wondering how the $700 BILLION bailout helped them out, especially since Joe the Plumber laid them off.
They also wonder why Obama couldn't turn over a good chunk of that $150 MILLION a month he was receiving in campaign contributions.
Guess we should have known better when his buddies at Fannie Mae called him their "family" and "conscience".
Regardless, with the dollar once again in the crapper, at least he did manage to get his piehole on what people now call the "new dollar bill".
(knock knock) Michelle: Yeah, coming!
PDB: Pizza Delivery Boy!
Michelle: Hi. How much is this?
PDB: $700,000
Michelle: $700,000 bucks?!! WOW, ok, well, here's a MILLION, uggh. Just, KEEP THE CHANGE…!
PDB: Oh, muchos gracias seniorita!
Michelle: Yeah, you're welcome… De nada!
Michelle: Yeah, thank you.
PDB: Enjoy it.
Michelle: Thanks!
106 Comments »

RSS feed for comments on this post. TrackBack URL
---
Please Log in and Leave a Reply!
You must be logged in to post a comment.