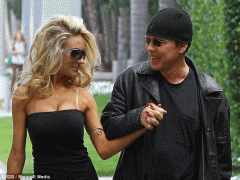 (DailyMail) "They've made no secret of the fact they're trying to push a reality show about their bizarre and controversial relationship. And yesterday, Courtney Stodden clearly wanted to show MTV producers exactly what they'd be getting if they snapped up the series.  The 17-year-old fame-seeker, who still attends school, donned a barely-there black mini-dress as she joined actor husband Doug Hutchison, 51, for a meeting at the network's offices in Santa Monica, California."
Full Story:  If THAT doesn't get you a reality show, what will! (DailyMail)
And if her 34-year old senior husband looks familiar in a creepy, asshole-ish way, it's probably because you recognize Doug Hutchison as that horrible gutless bully of a prison guard Percy who got his well-deserved comeuppance in the movie "The Green Mile" for abusing John and Del, and for killing Mr. Jingles.  Granted it was "just a movie", but somehow it makes the whole thing even more creepy.  But it's also hard to argue that it's a pretty clever publicity stunt for a shot at Reality TV fame and celebrity nonetheless.  All we need to top it off is for Doug Hutchison to now admit that he too is just a 16-year old girl stuck in a 30+21 year old male body and we're off to the races!
And if you really want to be impressed by an outstanding display of insight, clever wit, and a wide range of comedic facial expressions from the loving couple, check out this video on YouTube: http://www.youtube.com/watch?v=uiIwodrnW9g or this one: http://www.youtube.com/watch?v=DlfP4CzhX7U
Regardless, we had joked around how all this weirdness seemed perfectly tailored for a "Reality Show" pitch, and apparently it seems as if the "loving couple" must have thought the same thing long before we thought it up.