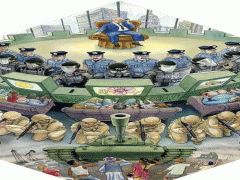 Militarization of American Police – Citizens are considered little more than scurrying cockroaches and savage animals
---
Perhaps the most frightening part of this 2006 video is that not one of these police officers objected to shooting rubber bullets at an unarmed ...

December 8th, 2011 |

Comment First!
Watch out for Nasty Jury Duty Phishing Schemes!
---
In a new phone phishing scam going around, a person calls you at home pretending to be a court official who threateningly says a warrant ...

June 30th, 2006 |

2 Comments