HALLOWEEN COCKTAILS: SEXY & SPOOKY SIPS YOU'LL DIE TO DRINK!
---
Want to impress your ghoulfriend this Halloween by concocting your very own scary, stiff sips (insert one-eyed monster joke here)?!  Sound like your kinda kinky kooky? Then ...

October 29th, 2011 |

Comment First!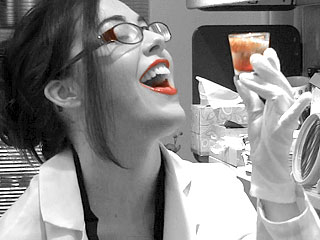 DRINKING A BLOODY BRAIN! (and bloody loving it!)
---
Tonight it's Halloween and I have to burn the midnight oil down in the torture chamber medical lab.  Despite the overtime, I still get to ...

October 31st, 2009 |

91 Comments