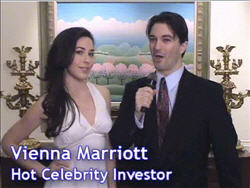 The Million Dollar Portfolio Challenge
---
With all the marketing hype around CNBC's Celebrity Portfolios and "Trading with the Stars", we deliver a "caffeinated combo" of celeb, a lil' bit of ...

March 26th, 2007 |

2 Comments
Which SEXY CELEB are YOU?
---
Have you been told that you look like a famous celebrity? Now you can put those brownnosers' compliments or backhanded insults to test with ...

January 6th, 2007 |

4 Comments