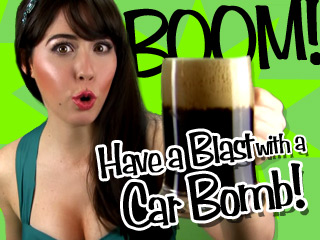 Have a BLAST this ST. Patrick's Day with a CAR BOMB BEER COCKTAIL!
---
Get wrecked this St. Patty's Day with a politically incorrect Irish Car Bomb Cocktail.  It's dynamite! This explosive beer cocktail recipe calls for Guinness Extra ...

March 17th, 2011 |

99 Comments

You Lush! Easy Hangover Cures and Foods
---
You vowed you'd never to do it again.  Nevertheless, somehow you've managed to get yourself in that same nasty predicament yet another time.  Daylight burns ...

May 22nd, 2009 |

6 Comments