myTprompt :: the Ultimate Vlogger Podcast and YouTube Teleprompter
---
Hello out there in Internet land! Yes, this is an actual INFOMERCIAL with some SPOOF on the side for our exclusive myTprompt Vlogger Teleprompter Software. ...

December 4th, 2006 |

3 Comments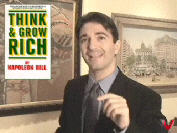 Aleksey Vayner "Impossible is Nothing" Spoof
---
Like Trump says, "There's no such thing as overexposure." Here's a little spoof we came up with on Aleksey Vayner's resume video as featured on ...

October 28th, 2006 |

5 Comments