Bernanke says no QE3? So why didn't markets tank??
---
(Robert Sinn) "When the economic data and financial markets soften the Fed strikes a more dovish tone, and as we saw yesterday when things improve ...

March 3rd, 2012 |

Comment First!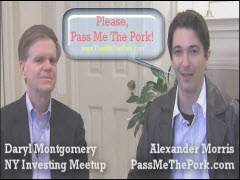 ANY PORK IN THIS STOCK MARKET FOR ME?
---
Video interview and update on the current State of the Markets, as well as the overall State of the Economy with Daryl Montgomery of the ...

April 22nd, 2009 |

43 Comments