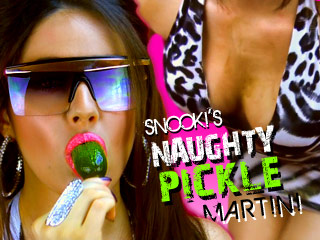 SNOOKI'S NAUGHTY PICKLE MARTINI! A New Cocktail for Jersey Shore Season 3!
---
Jersey Shore starlet Nicole "Snooki" Polizzi certainly has a thing for pickles.  In this episode, we'll shake up a temptingly tart(e) tipple that ...

January 14th, 2011 |

196 Comments
Go BUCK WILD this LABOR DAY with a VODKA BUCK or MOSCOW MULE COCKTAIL!
---
Go Buck Wild this Labor Day Weekend with an easy-to-make cocktail that's got serious kick!  A Buck Wild cocktail (also known as a Vodka Buck ...

August 31st, 2011 |

71 Comments